Treasure of Taiwan
| | |
| --- | --- |
| Resort: | Treasures of Taiwan |
| Operator: | Wendy Wu Tours |
| Destination: | Taiwan |
| Price From: | £4290.00 |
Overview
Explore the cities of Taipei and Tainan, where ancient and modern sit side by side, and lose yourself in the natural beauty of Sun Moon Lake and Taroko National Park. This magical and diverse island has so much to offer, and on our Treasures of Taiwan tour you can experience it for yourself!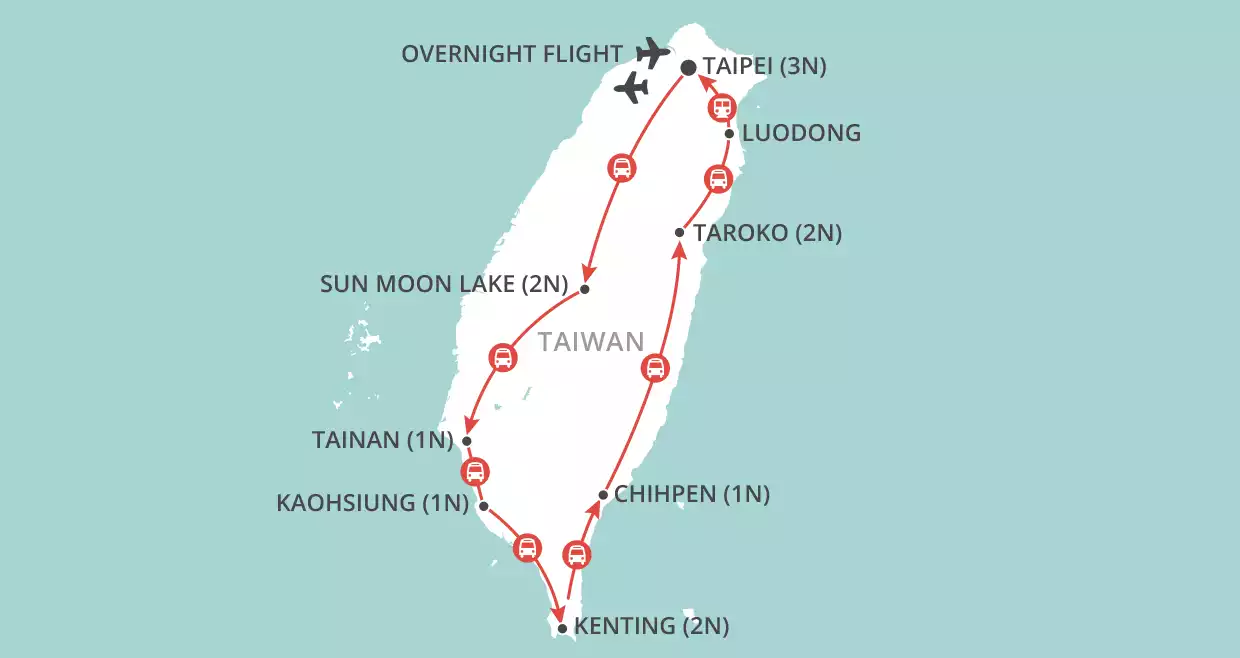 Whats Included
| | |
| --- | --- |
| International flights & taxes | 3* plus – 4* accommodation |
| Touring with guides and entrance fees | Domestic transportation |
| All meals | Maximum group size of 28 passengers |
Full Itinerary:
Day 1-2: Fly Overnight to Taipei
Flyovernight to Taipei, Taiwans buzzing capital. Depending on your time of arrival, the rest of the day is yours to start soaking up the local culture. This evening meet with your National Escort and fellow travellers to enjoy dinner at a nearby, local restaurant.
Day 3: A day in Taipei
Nestledin a basin surrounded by mountains, Taipei is a laidback and vibrant city that, as well as being packed with the upmarket and ultramodern, is a bastion of Taiwans wonderfully rich heritage. Begin your explorations at the National Palace Museum, home to the worlds largest and finest collection of Chinese art and artefacts, and the Martyrs Shine. This afternoon, visit CKS Memorial Hall, Longshan Temple and make a photostop at the world-famous Taipei 101.
Day 4: Scenic Sun Moon Lake
DepartTaipei to journey towards the heart of the island to what is arguably Taiwans most scenic spot Sun Moon Lake. Visit the Wen Wu Temple before embarking on a motorboat cruise around the lake for picture perfect views of the areas beautiful landscapes. Youll also visit the Holy Monk Shrine, Tze-En Pagoda and the aboriginal village of Tehua.
Day 5: Tea Plantation
Begintoday with a visit to a famous tea farm to discover all about the process of tea growth and production before taking the cable car to Formosan Cultural Village. There will also be some time at leisure, with the option of biking on trails around Sun Moon Lake, listed as one of the 10 most beautiful places to cycle in the world.
Day 6: Discover Tainan
DepartSun Moon Lake and travel to Tainan. Taiwans oldest city and capital until 1887 when Taipei took over, Tainan was originally established as a trading port by the Dutch East India Company. It is renowned for its preservation of traditions and rich folk culture, and youll start exploring at the Chikan Tower and Confucius Temple. In the afternoon, wander the old streets of the Anping district and view the sunset from Anping Harbour.
Day 7: Explore Koahsiung
Headsouth to the port city of Kaohsiung where youll admire the Dragon & Tiger Tower and the Spring & Autumn Pavilion before paying a visit to Taiwans largest monastery, Foguanshan. Lunch here will be a vegetarian feast, before you stroll over to the main shrine, the Buddhist Museum and Great Buddha Land, where youll find a 36-metre Buddha watching over a garden of many smaller Buddhas. Finally, see the Martyrs Shrine at Shoushan.
Day 8: Visit Kenting National Park
Travelover to the beach resort of Kenting, gateway to the beautiful Kenting National Park. Consisting of a range of landscapes low mountains, rolling hills, cliffs and deserts, all fringed by excellent beaches and helped along by a balmy tropical climate, Kenting is home to a diverse range of flora and fauna.
Day 9: Discover Sheding Nature Park
Spendthe morning amongst the rock formations and lush greenery of Sheding Nature Park with a pause to take in the ocean views at Oluanpi Lighthouse. The rest of the day is at leisure.
Day 10: Ocean Drive to Taitung
DepartKenting and drive along the beautiful east coast to Taitung, admiring the ocean views throughout the journey. Continue to Chihpen, famous for its hot springs. On arrival, your afternoon will be free to relax and bathe in the thermal waters at your hotel. Tonights dinner will be accompanied by a performance of traditional music and dance.
Day 11: Head to Taroko
Travelnorthwards to Hualien, the gateway to the magnificent Taroko National Park. En route there will be a series of stops including Donghe, where you may spot wild monkeys, and the scenic Cisingtan Lake, where you can head out on an optional bike ride on the lakeshore.
Day 12: Explore Taroko National Park
Encompassing sea cliffs, soaring peaks and a famously picturesque gorge, Taroko National Park is home to a huge diversity of features and habitats and shelters a great range of plant and animal species. Today your visits will include the Gorge Gateway, the Eternal Spring Shrine and Swallow Grotto and you can enjoy a leisurely walk through the beautiful landscapes.
Day 13: Return to Taipei
Takea photo stop at Cingshuei Cliff for beautiful views and visit the Kavalan Whisky Distillery, where a few tastings will be in order. Return to Taipei via Luodong by highspeed rail and then enjoy a farewell dinner, the perfect opportunity to reflect on your adventures with your fellow passengers.
Day 14: Fly Taipei to UK
Flyto the UK, arriving home the same or following day.