Gems of the Danube with Dame Darcey Bussell
| | |
| --- | --- |
| Resort: | Gems of the Danube with Dame Darcey Bussell |
| Operator: | Scenic |
| Destination: | Austria, Europe, Germany, Hungary |
| Price From: | Contact for latest offers |
This is a unique opportunity to join Dame Darcey Bussell, the former ballerina and Strictly Come Dancing judge, for a five-star all-inclusive river cruise down the Danube.
Starting out in the fascinating Bavarian city of Nuremberg you will pass through Regensburg, Linz and Passau and onto Vienna for the climax of the trip. Here, Darcey will join you at the opulent Palaism Liechtenstein for a private Scenic Enrich evening concert featuring the music of Strauss, Mozart and Beethoven, and performances of classical ballet and Viennese waltz compered by Darcey herself.
Darcey will then accompany you down river to Budapest, where you will explore the city or journey to nearby Szentendre, known for its museums and galleries. Back on board your five-star Scenic Star-Ship you will enjoy an exclusive event at which Darcey will reflect on her life and career in conversation with The Telegraphs dance critic Mark Monahan.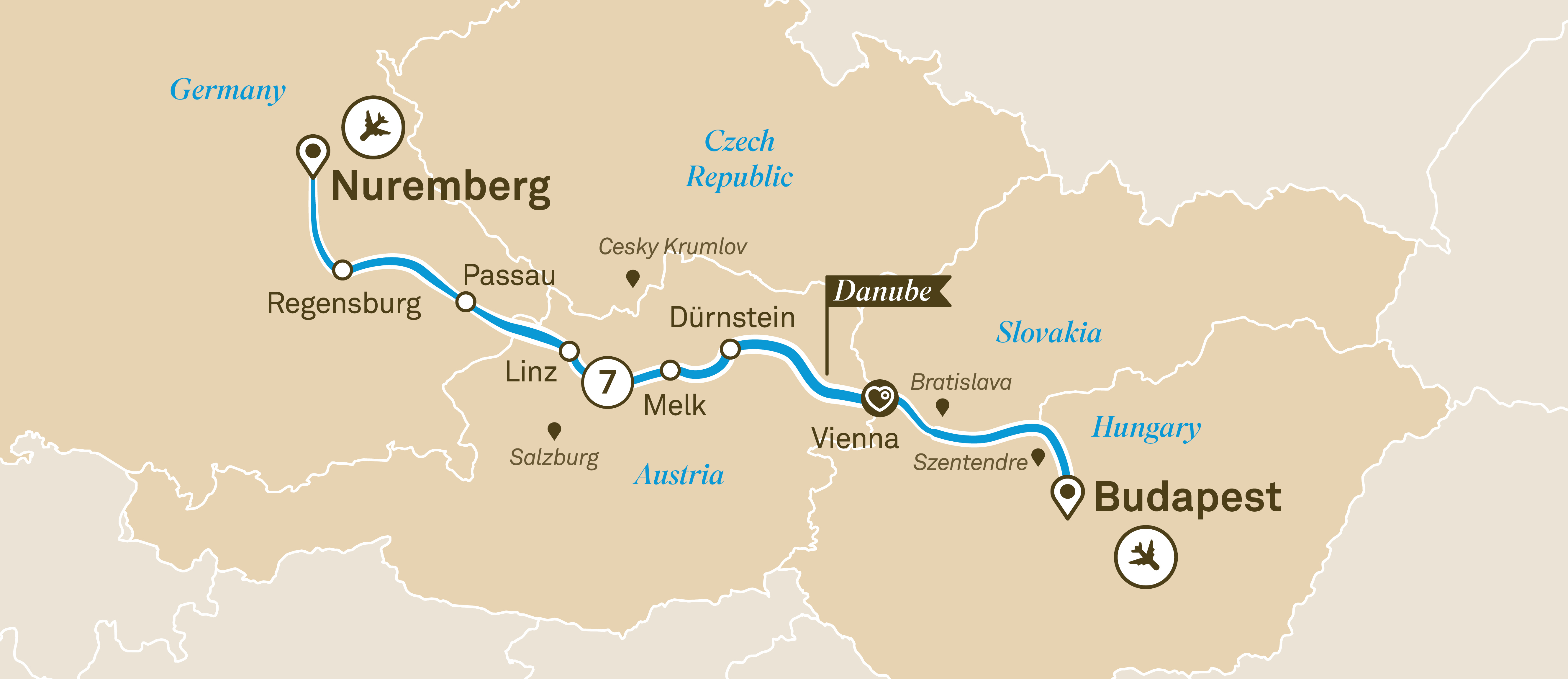 2020 Nuremberg > Budapest Itinerary:
Day 1 – Nuremberg

Welcome to the fascinating Bavarian city of Nuremberg, which dates back to the 11th century.
Your cruise begins here and youll get to toast the occasion at this evenings welcome reception.

Meals Included:Dinner

Day 2 – Nuremberg

Freechoice

Choose to explore this wonderful city on foot with your local guide or visit moving WWII sites including the Documentation Centre Nazi Party Rally Grounds, a reminder of the terror caused by the National Socialist regime. Alternatively, visit Nurembergs rock-cut cellars for a unique beer tasting under the city.

Meals Included:Breakfast, Lunch, Dinner

Day 3 – Regensburg

Regensburg offers a rich tapestry of experiences, from its medieval Old Town to the Bavarian Forest on its border.

Freechoice

Join a guided walk around Regensburg or take a ferry and sail the Danube Gorge to view historic Weltenburg Abbey, where you can sample beer from one of the oldest monastic breweries in the world. Alternatively, take a leisurely cycle on your own to the Walhalla monument with Scenic Tailormade.

Day 4 – Passau > Linz

Freechoice

Choose to visit the medieval Czech city of Cesky Krumlov and discover its World Heritage-listed old town, or journey to Salzburg and explore the birthplace of Mozart and the city backdrop for the film
The Sound of Music. Alternatively, stay on board for a cooking demonstration.

Meals Included:Breakfast, Lunch, Dinner

Day 5 – Melk > Drnstein

Freechoice

Be guided through Melks magnificent 18th century Benedictine Abbey or, embark on a guided bike ride along the river from Melk to Drnstein. Alternatively, taste your way through the Wachau Valley sampling many regional delicacies as you go or visit a Schnapps producer and sample some of the many flavours on offer.

Meals Included:Breakfast, Lunch, Dinner

Day 6 – Vienna

Freechoice

Take a guided tour of historic Bratislava or tour Schnbrunn Palace and witness the opulence of the Habsburg Empire. Alternatively, explore a different side of Vienna on a guided cycling tour or visit the Belvedere Museum, one of Europes most stunning Baroque landmarks and discover the greatest collection of Austrian art dating from the Middle Ages to the present day, complemented by the work of international artists such as Claude Monet and Vincent van Gogh. Alternatively, journey outside of Viennas city centre to its acclaimed wine region, hearing tales of Viennas long tradition in wine production along the way.

Exclusive Highlight
Today, Dame Darcey Bussell will arrive on board your Scenic Space-Ship to accompany you for the rest of your river cruise. Dame Darcey Bussell will also bring a signed keepsake for all guests to take home.

Enrich

Admire the opulence and luxury of Palais Liechtenstein while enjoying a glass of fine Austrian Sekt in the company of Dame Darcey Bussell. Sit enthralled during an enchanting private Viennese evening concert featuring the timeless music of Strauss and Mozart and classical Ballet and Blue Danube Waltz performances compered by Dame Darcey Bussell herself. There will also be a special dedication to Beethoven as we celebrate the 250th anniversary of his birth.

Meals Included:Breakfast, Lunch, Dinner

Day 7 – Budapest

Freechoice

Make the most of a guided city tour including a piano concert, or discover the Jewish history with an expert local guide. Alternatively, take a guided hike to Buda Hill for breathtaking views over the Danube, or journey to nearby Szentendre, known for its museums, galleries and artists, and discover this charming town on a guided city tour.

Exclusive Highlight
Join Dame Darcey Bussell on board your Scenic Space-Ship for an exclusive talk and Q+A where you will be able to ask the infamous ballet dancer any burning questions about her life and career in dance.

This evening join Dame Darcey Bussell for cocktail hour on the sun deck during our evening cruise through Budapest. Raise a glass and bid farewell to the end of your trip as you take in the night lit riverside attractions including Budapests Matthias Church and the Chain Bridge.

Meals Included:Breakfast, Lunch, Dinner

Day 8 – Budapest

Depart after a wonderful farewell breakfast. Budapest is the end of your cruise, but it will be the start of a lifetime of wonderful memories.

Meals Included:Breakfast