Array
Array
Array
Array
Array
Array
Array
Array
Array
Array
Club Med Punta Cana, Dominican Republic
| | |
| --- | --- |
| Resort: | Punta Cana |
| Operator: | Club Med |
| Destination: | Caribbean Islands, Dominican Republic |
| Price From: | Contact for latest offers |
Discover the stunning beachfront of Punta Cana with Club Med
Looking for a Caribbean break with Club Med Holidays where youre guaranteed hours of sunbathing under coconut palms on a beach of pure white sand? Club Med Punta Cana is in the Dominican Republic. It includes both an adults-only Zen Oasis area; dedicated to you being pampered, and a 5 Trident luxury space, which should exceed the levels of holiday opulence you currently enjoy.
On top of that, youll have a full programme of leisure and sporting activities (with coaching) to try should you feel like it, round-the-clock gourmet meals, and childcare from Club Med so comprehensive that youll struggle to persuade the kids to spend any time with you! This is a tropical idyll with outstanding facilities, designed to give you a memorable trip.

Bars & Restaurants at Club Med Punta Cana
Used to the finer things in life? Youll love La Cave. This premium champagne bar will ensure youre treated like the VIP you are at all times, with an astonishing range of wines and table service. The pool bar is called Cielo and has a relaxed vibe. You can swim up and collapse into the soft, outdoor sofas to enjoy ice cold refreshments in the middle of the day.
Or, if your days are being spent on the beach, then your preferred bar might be the Indigo Beach Lounge bar. It is situated in the beautiful beach area, has a chilled vibe during the day, and gets lively at night. Want to dance, or simply find a romantic corner to sit with your partner? This venue is ideal. Theres also an adults-only bar called the Hibiscus Bar and Lounge. Make the most of the healthy juices and teas here, not to mention the harmonious atmosphere.
Recently renovated to give it an even more stylish, sophisticated interior, The Samana will provide you and your kids with a fine selection of foods from around the world at its buffet. Sit back and enjoy a relaxed dining experience here.
Want to eat so close to the ocean, you can practically taste it? Then youll want to try the Hispaniola restaurant. Youll hear the waves as they lap against the shore and you enjoy your choice of gourmet meal. International and local dishes are available from here. However, if youre looking for the ultimate Caribbean foodie treat, then walk your way over to the Indigo Beach Lounge. Underneath the stars, and with the sand just steps away, you can tuck into local Caribbean delicacies. The seafood here is particularly recommended.
Rooms and Accommodation
Superior, deluxe and suites are the room options youll be given when you book, but its up to you what sort of view you choose; whether you want to look out on the sea, or into the lush tropical gardens.
All the rooms are spacious, but the 5 Trident luxury area will give you an astonishingly impressive size of the accommodation, as well as your own private terrace. If youre worried about being disturbed by the kids staying at the resort, then you can choose a room in the same oasis adults-only accommodation.
Club Med Childcare & Kids Clubs
Curious to know how well your children are going to entertain themselves while youre on holiday? Why not ask our team here at Low Cost Deals? There are so many games, contests, wildlife experiences , beach activities, art sessions, film nights, spa days, hiking trips, picnics and dance shows to do, that well try to give you the low-down on whats possible. And this is all before we launch into the available sports classes (all with their own child-friendly coaching)
At the end of each day, your little ones will be exhausted, but very happy. The kids clubs are split into different ages; 0-2, 2-3, 4-10 and 11-17, but each club will have its own team of childminders and youth facilitators, taking safe care of your kids.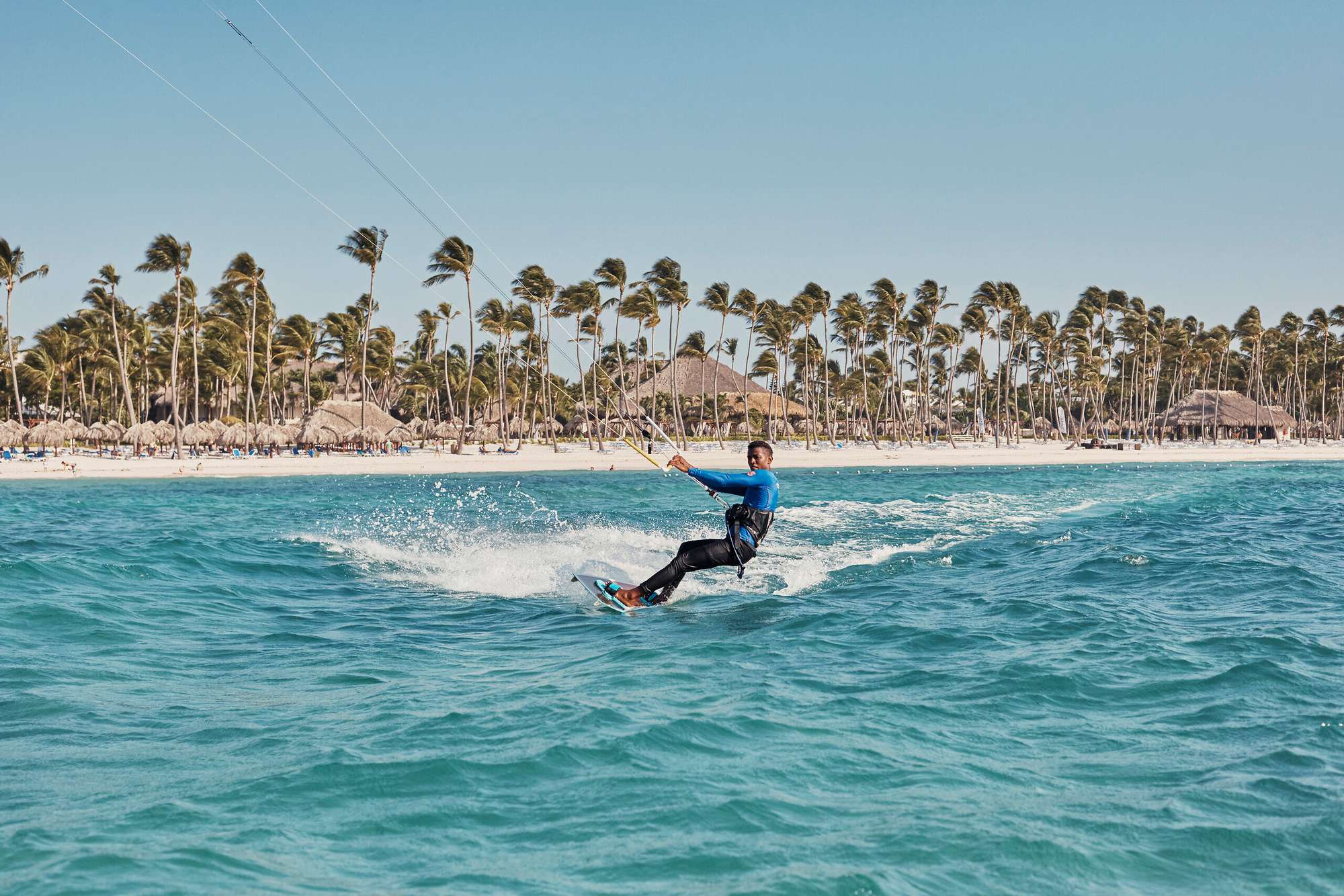 Activities at Club Med Punta Cana
Want to get your heart pumping faster out on the waves? Then why not join the sailing or kitesurfing schools? Scuba with tuition is also possible for an additional fee.
On land, you can improve your golf game, get fitness tips in the state of the art gym, as well as learn archery, tennis and how to do the flying trapeze. Theres a circus school on site! Of course, youll enjoy the evening entertainment programme as well.
---
Location
Club Med Punta Cana is on Hispaniola Island in the Dominican Republic and theres plenty to do nearby. Must-do excursions include a dolphin-spotting boat trip around Tortuga Bay, swimming in the natural pool at Juanillo, taking a buggy ride around the neighbouring cliff tops, zip-wiring through the rainforest, and hunting starfish at Saona Island.
Further afield, theres the famously colourful houses of La Romana and the islands capital Santa Domingo, which is a UNESCO world heritage site, to explore.
---

Booking
Ready to book your next holiday? Please give us a call, or send us an email here at Low Cost Deals. Our award-winning team of advisors have been working as a booking partner to Club Med for many years and will be able to answer any questions you might have, as well as complete the booking process for you.