Array
Club Med Da Balaia, Portugal
| | |
| --- | --- |
| Resort: | Da Balaia |
| Operator: | Club Med |
| Destination: | Europe, Portugal |
| Price From: | Contact for latest offers |
The perfect family holiday from tots to teens
Sitting high and mighty on the pastel-red cliffs of the Algarve is where you'll find Club Med Da Balaia, a resort with its own 18-hole golf course for those plagued with PGA fever and a relaxing adults-only eco pool for parents to catch a break whilst the tots and teens make the very most of their time in the sun.
Sample a taste of Lusitania with a 1 or 2 week holiday at Da Balaia, whether it's metaphorically by taking a stroll down one of Europe's most beautiful beaches or literally with the gourmet cuisine available on-site inspired by local flavours.
Bars
The main bar at Da Balaia is the Vasco Gourmet Bar, where you can find a wide selection of hot and cold drinks plus a stock of premium spirits and other alcoholic refreshments. This bar is where the atmosphere of the daytime comes at night, with staff remaining on duty til' the early hours. The poolside swimming pool is aptly named The Falesia (homage to the red cliffs of the Algarve) and serves fancy cocktails and fizz as well as soft drinks for the t-total club and tots. For guests who prefer a more reserved atmosphere may want to cool off by the 'adult-only' quiet pool bar.
As far as wine regions go, Portugal is amongst the top ranks, and you can sip on the finest of Portuguese Vino at the Vasco Gourmet Bar Wine Cellar – a tasting space where the parents and grandparents can travel the wine regions of the world by a swig of a glass. Looking to show off your best dad dance moves? The O'Teatro bar is the perfect place to dance and drink you're way into the early hours of the morning with friends.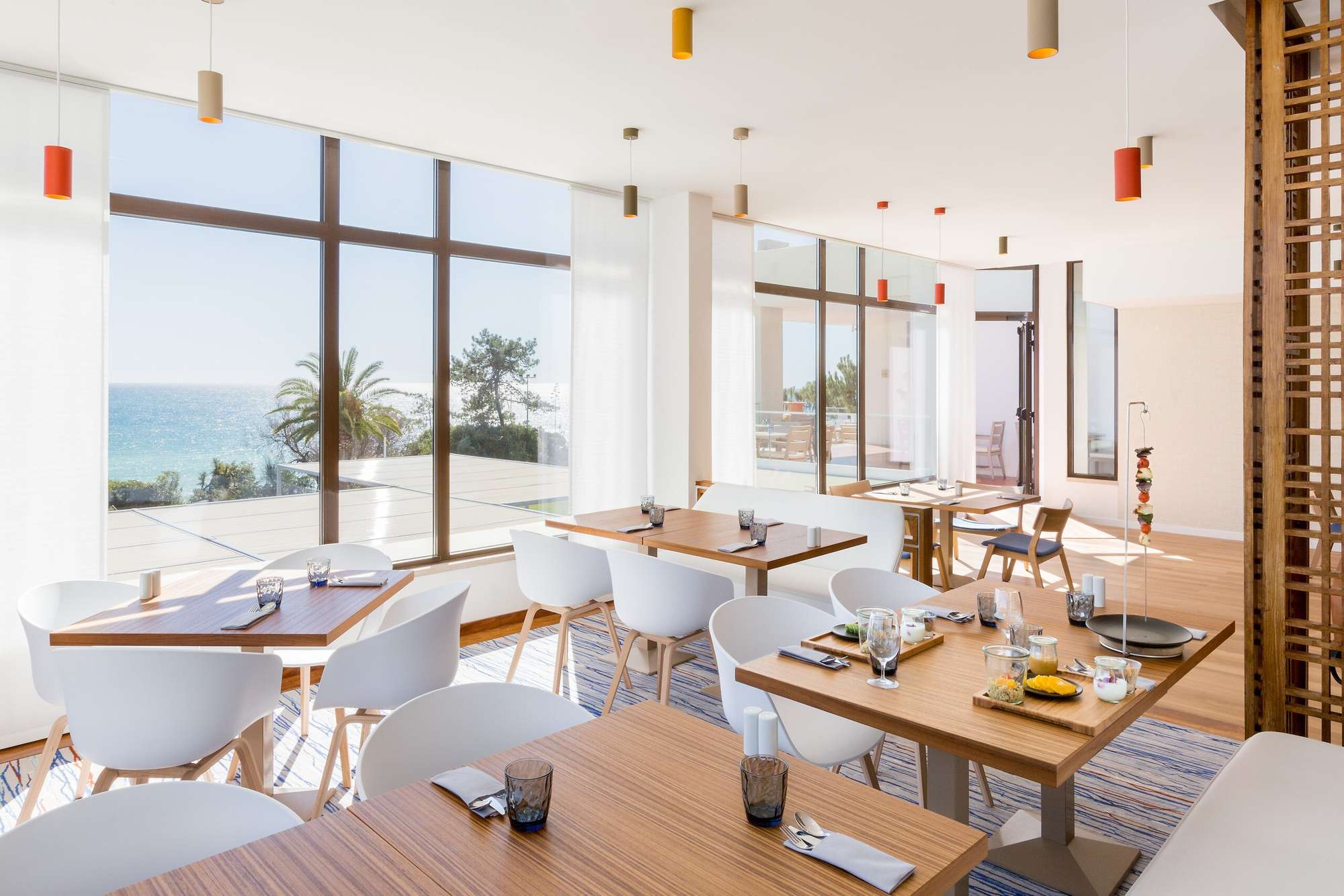 Restaurants
A holiday to Portugal would be incomplete without a dish of Patatas Bravas or an iconic Paella dish, both of which can be sampled at The Balaia restaraunt. This is the main restaraunt where you'll be able to enjoy a ranging selection of local and international cuisine all day long throughout breakfast, lunch and dinner. There is also a baby corner located in the restaraunt where families can prepare food for the youngest family members.
A new and exclusive addition to Club Med Da Balaia, the Vasco Gourmet lounge is also available all day long so if you're late for breakfast or just fancy a few nibbles throughout the day, head over the Vasco Gourmet lounge and fill your boots! There is also a lounge bar and a wine cellar located in this area so if you want to taste a flavour of international wines or help yourself to a midday lager, you can.
Rooms
When the day is done and you've had all the fun you could, ate all you can eat and drank all you could drink, you'll head back to your room for the perfect night's sleep. With a range of accommodation, beginning at Superior to a romantic suite, pastel colours run through the resort, emulating the very cliffs it sits on. For families, there is a choice of interconnecting superior and deluxe rooms as well as an interconnecting suite, couples can find the same accommodation levels.
Facilities
The on-site facilities will keep you occupied all summer long at Club Med Da Balaia! When you're not learning the ways of a flying trapeze, you may be hitting the links on a 9-hole course. Every Club Med resort is big on being active and having fun, so you can expect to find an endless list of sports such as volleyball, tennis, football, archery, table tennis and mini-golf, all of which you have free access to. Golf fanatics will love this resort, many thanks to it's nearby 9-hole golf course and complimentary equipment and a full range of clubs.
There are also plenty of excursions available from the resort, organised by the Club Med G.O's enabling you to get out there and explore your local surroundings. For relaxation, you must try out the spa and wellness centre here with many treatments such as facial massages, sports therapy massage and manicures available at a cost.
Childcare and Kids Clubs
The Club Med brand is synonymous with family-inclusive holidays, so the childcare at Club Med Da Balaia is second to none. The childcare here starts from just 4 months old and has a limit of 17 years old, for the youngest ones at 0-2 years & 2 to 3 years you will have to pay extra with the older ones being a little more independent, the childcare services come at no extra cost.
If you're wondering what the little ones will get up to, all Club Med childminders are registered and qualified to look after children of all abilities and will encourage your children to get involved and feel comfortable. There are plenty of children's toys and apparatus in the smaller kids clubs and the older ones will be able to enjoy home comforts on a video console or make the most of the outdoors with other children.
Location
Located in the south of Portugal, Club Med Da Balaia is just a short drive from nearby golf courses and just 7km from Albufeira, an elegant small village known as the St Tropez of Portugal. Faro, the capital of the Algarve is 35km from the resort, here you can understand the local traditions still well-preserved despite becoming a popular tourist destination.
Booking
If youd like to book a week or two at Club Med Da Balaia, please give the team a call. We have been making holiday bookings on behalf of Club Med for many years and can advise you on any resort details you need to find out.