Array
Club Med Gregolimano, Greece
| | |
| --- | --- |
| Resort: | Gregolimano |
| Operator: | Club Med |
| Destination: | Europe, Greece |
| Price From: | Contact for latest offers |
Family holidays made perfect at this Greek utopia
Want to discover the Greece, Club Med style? from the comfort of a hammock in the pine forest that surrounds the Club Med Gregolimano resort, or from a sun lounger on the beach next to it? Here, on the island of Evia, there are plenty of beautiful sea views to enjoy, and a full programme of events and activities to keep you busy. Its fun for all the family under the warmth of the Mediterranean sun!
Along with luxury accommodation, your Club Med Gregolimano all-inclusive package will provide you with all your meals, flights and transfers, so you wont need to worry about spending a fortune while youre abroad. Instead, you can simply focus on relaxing and having a great holiday.
---

Bars & Restaraunts
The Aphrodite is Club Med Gregolimano's resorts bar. Its huge and opulently decorated with an ocean view and a terraced area on which to enjoy your drinks al fresco. Refreshments are served throughout the day and, given the bars convenient proximity to the pool, its entirely possible to swim up and grab a juice or a beer.
At night, theres a sociable vibe, soft lighting, and the chance to make new friends. It gets even livelier later when the dance floor opens.
The main restaurant here at Club Med Gregolimano is The Pleiades; an international buffet of exceptionally high quality that will provide you with gourmet cuisine from around the world. It will feature all your favourite dishes alongside new mouth-watering flavours, you certainly wont get bored. Each meal time will be a novelty.
For a more formal dining experience, waiter service to your table and a menu of Mediterranean delicacies, youll love the Olea Gourmet Lounge.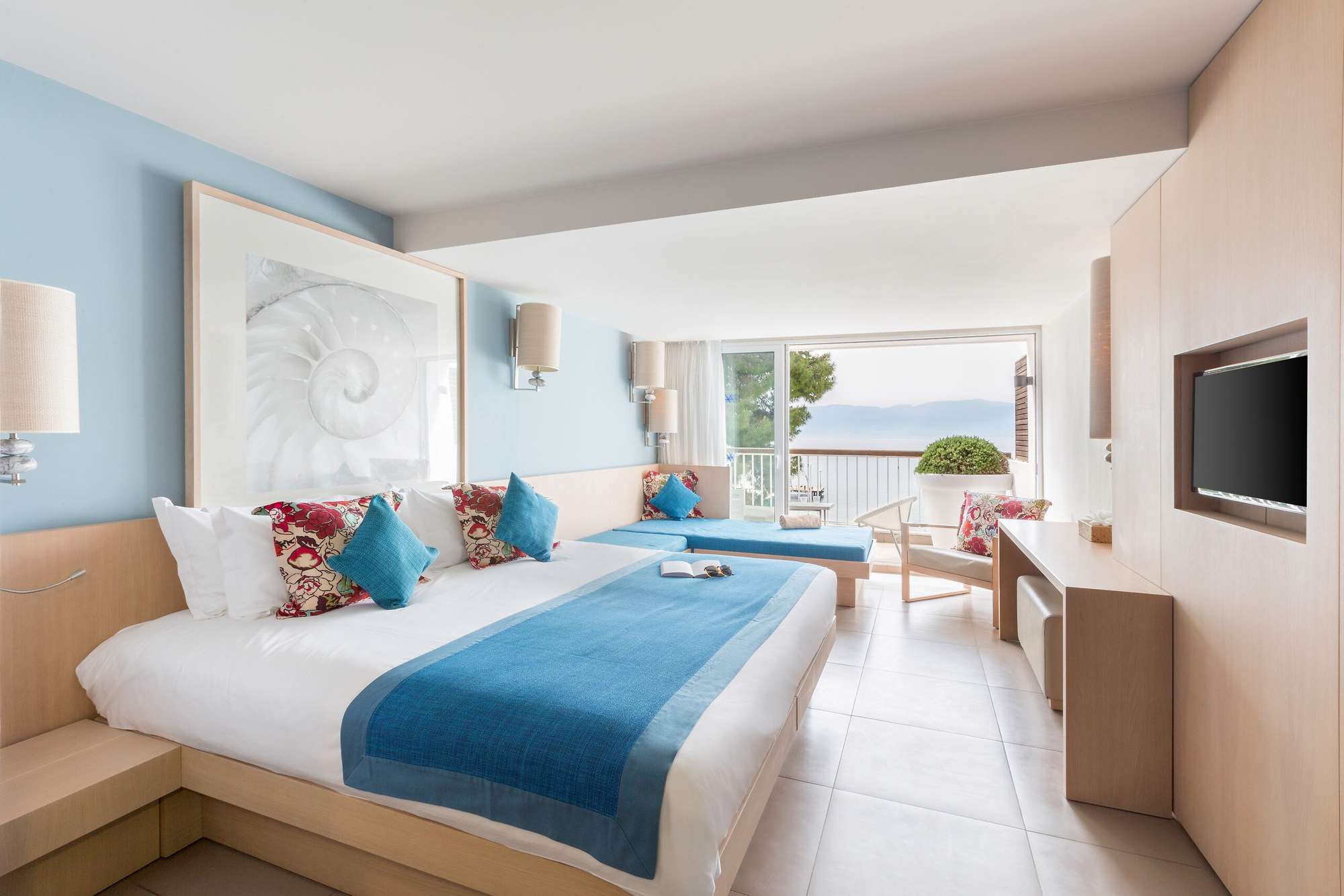 Rooms & Accommodation
Club rooms are what Club Med calls its standard rooms. Theyre spacious, comfortable and contain cutting edge amenities to provide entertainment and convenience. Spread around the resorts Acropolis, Pire and Parthenon hotels, youll also find interconnecting rooms for families, not to mention deluxe rooms and suites, for those looking for heightened luxury and even more space.
Childcare & Kids Clubs
The Club Med kids clubs are so much more than simply a place where your kids can play. Here, under the supervision of professional childminders, your kids will be offered sailing, archery and tennis lessons. Theyll also love the on site circus academy, which will teach them how to safely operate the flying trapeze. Youll be impressed with the results!
Little kids will join the Mini Club, while older kids will love the Junior Club. All will be encouraged to make friends their own age and will have the freedom to choose which activities have grabbed their interest.
---
Activities
Ever wanted to shoot an arrow as straight as Robin Hood, serve like Andy Murray, or learn to sail like Ben Ainslie? With expert coaching from the Club Med tutors, you might be on your way to doing just that. Your schedule can be hectic and include fitness classes, circus skills sessions, scuba, snorkelling and waterskiing. Or, it can simply consist of you laying around by the pool, or the beach. Its up to you.
---
Destination
Located on the island of Evia, youre only a few miles away from stunning architectural remains that are not only significant for the countrys history, but world history too. Its possible, using this resort as your base, to take a day trip to Delphi, where the Oracle of Greek Mythology is said to have foretold the future. Trips to Athens and the battle fields of Thermopylae are also popular.
To soak up the rugged natural beauty of the coastline, youll want to head over to the sacred rocks of Meteora, and to immerse yourself in the traditional Greek lifestyle, why not go and have a look at the Village of St George, or Neos Pyrgos; the latter of which is only 29km away. One of Greeces best loved and liveliest seaside resorts, Aedipsos, is also close by at just 25km away. Club Med Gregolimano is a great base for exploring the cultural sites of Greece.
---

Booking
Ready for the ultimate Greek family beach holiday? Club Med Gregolimano has everything you could possibly want and need included in your package. Our team here at Low Cost Deals can help you book it. You just need to get in touch!